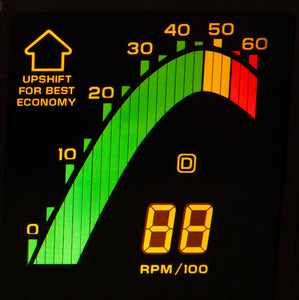 1987 / 1988 Corvette Tachometer LCD Panel (New)
New replacement Tachometer for your 1987 or 1988 Corvette instrument panels.  These new replacement panels are a great choice for a cracked or broken lcd panels.  This is a panel for 6,000 RPM L98 cars. 

Note the distinctive "Overdrive" / OD symbol above the tach digits.  This is only present on 1987 and 1988 tach panels.  1987/1988 panels also have the up arrow in the upper left corner of the panel, and includes the text "Upshift for best economy" below that arrow.
Contents

1- Tachometer LCD Panel for 1987/1988 Corvette Instrument Panels
Note:  This will not work with 1984, 1985, 1986, or 1989 Corvette Instrument Panels.  See our other listings for other year Corvettes.