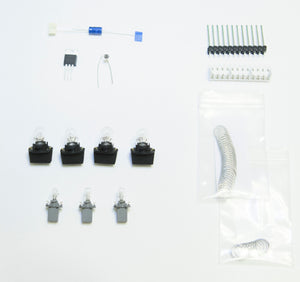 1984-1989 Corvette Instrument Panel Backlighting Repair Bundle
Repair Dark and Intermittent Clusters with ease!
This bundle contains all the parts that we replace when a cluster comes into the batee.com shop for a backlight repair.
Signs your cluster may need a backlight repair:
The four bulbs which illuminate the cluster remain dark, even with the ignition on.

When the ignition is on, the cluster remains dark and the info can't be seen

The cluster is dark with the headlights off, but works with the headlights on.

Sometimes, hitting the dash or hitting a bump causes the cluster to start working properly.

Shining a flashlight on the cluster causes the information to appear.

The cluster LCD panels are dark, but the turn signal and high beam indicators are on constantly.

The cluster works, but the display is very dim.

The cruise control won't set.

The (auto) transmission won't go into Overdrive.
Contents
12 pin Male connector (bottom board)

12 pin Female Connector (top board)

Replacement Photocell

Replacement Dimmer Transistor and Smoothing Capacitor

Replacement Xenon Illumination bulbs and sockets or LEDs (4)

Replacement Indicator bulbs and sockets (3)

60/40 Tin Lead Rosin Core solder (don't use acid core or lead-free solder on the cluster!)

Desoldering Braid (not shown in photos)